City of Parsons Welcomes You

Parsons Municipal Building
Located on the Banks of the Beautiful Tennessee River about half way between Memphis & Nashville.
Just 15 minutes South of I-40 at exit 126 on Hwy 641 South.
---
Play Day at the City Park
In celebration of the 100th birthday of the City of Parsons, the Parks and Recreation council would like to invite you to a Play Day at the Car W. Partin City Park located on Old Camden Rd Saturday, June 8th beginning at 9:00 AM. This is an event for all ages and will include face painting, games, corn hole and other fun activities for the kids, a tennis and volleyball tournament and concessions throughout the day. The volleyball tournament will be played in the newly constructed sand court at the city park. Team registration will be $5.00 per person and can be done by calling the city hall at 847-6358 or Teresa Taylor at 549-5201. Team awards will be given for first and second place. Deadline for team registration will be Wednesday, June 5th at 4:00 PM. Proceeds from the day will be used for the construction of the new Parsons Regional Community Park located at the old Scott-Gibson airport on West 9th Street. Go ahead and bring the family and plan a day at the park.
Tennis Registration
Men's and Women's singles ages 15 and up.

Location: City of Parsons City Park (Old Camden Rd Parsons, TN).

Schedule: Play will begin at 9:30 AM on Saturday, June 8th.

Awards will be given for winner and runner up in the double elimination tournament.

Registration Deadline is Wednesday, June 5th by 4:00 PM.

Registration fee: $15.00 per person.

Rules: Professional Scoring will apply with match as 2 out of 3 sets.

For more information contact the Parsons City Hall at 731-847-6358 or Teresa Taylor at 731-549-5201.

Click here for the registration form.

Payment and registration form may be dropped off or mailed to the Parsons City Hall Municipal Building at PO Box 128 Parsons, TN 38363.
---

Click for more information
---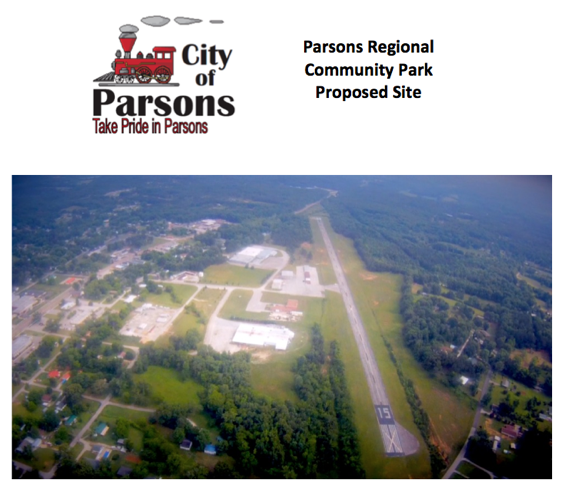 • Click
here
for a promotional video on the proposed Parsons Community Park.
• Click
here
for more information on the proposed Parsons Community Park.
The City of Parsons has been awarded a Land & Parks Recreation Fund (LPRF) grant for Phase I
designed to re-purpose approximately ten acres of the old Scott-Gibson Airport for recreation.
---
We Take Pride in Parsons!