City of Parsons Welcomes You

Parsons Municipal Building
Located on the Banks of the Beautiful Tennessee River about half way between Memphis & Nashville.
Just 15 minutes South of I-40 at exit 126 on Hwy 641 South.
---
City of Parsons annual Christmas parade will be Saturday December 3, 2016 at 5:00 pm.

This year's theme is: It's A Out Of This World Christmas

To register a float, band, antique cars or trucks, or other cars and trucks, and miscellaneous entries:
Call Parsons City Hall at (731) 847-6358. After office hours call Judy Daugherty at (731) 847-6817.
Or come by Parsons Municipal Building at 535 Tennessee Ave South, Parsons, Tennessee.

There is no entry fee. Line-up is at 4:00 pm.



The City of Parsons Christmas Parade will be different this year. Dwight Lancaster will not announce the entrees. Dwight recently passed away and everyone who knew him say they miss him. They miss his loyalty. They miss his face and they miss his voice. This year's parade will be dedicated to his memory.

Dwight reported the news and other happenings on the local radio station. WKJQ. He was a longtime city council member in Parsons, and past school board member for the schools of Decatur County. He served on several boards such as the Parsons Regional Planning Commission , and the Parsons and Greater Area Museum Board. And he would always be there to help the city or the schools out. He never missed a meeting until he got too sick to attend.

Everyone is invited to come out and watch the festivities Dec 3rd and at the same time honor Dwight Lancaster's dedication to his hometown and county.

---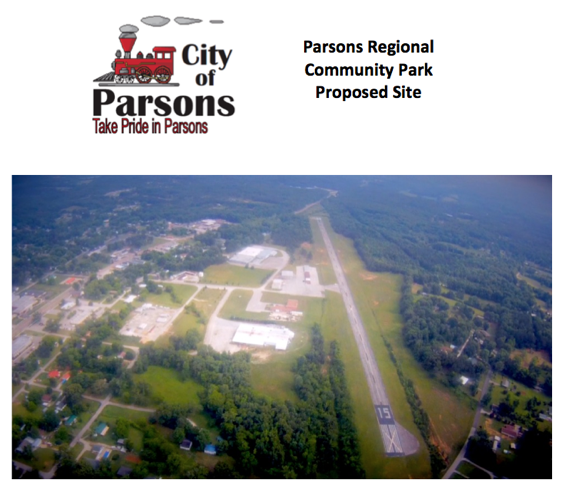 • Click
here
for a promotional video on the proposed Parsons Community Park.
• Click
here
for more information on the proposed Parsons Community Park.
The City of Parsons has been awarded a Land & Parks Recreation Fund (LPRF) grant for Phase I
designed to re-purpose approximately ten acres of the old Scott-Gibson Airport for recreation.
---
We Take Pride in Parsons!