City of Parsons Welcomes You

Parsons Municipal Building
Located on the Banks of the Beautiful Tennessee River about half way between Memphis & Nashville.
Just 15 minutes South of I-40 at exit 126 on Hwy 641 South.
---
City of Parsons Plans Heritage Park and Veterans Event
Saturday, November 8



The City of Parsons will host a special salute to area veterans with an event scheduled from 10:00 a.m. to 3:00 p.m. on Saturday November 8, 2014, at the municipal building and adjacent grounds on the south side of the Parsons Centre located at 535 Tennessee Avenue, South. We are recognizing four veterans from our area who were killed in action during WWI, WWII, Korea, and Vietnam with displays and accounts of their service. This event will also serve to kickoff the establishment of a Heritage Park designed to honor and memorialize all those who have served from this area in the Armed Forces of the United States of America.

The four who have been selected this year to represent all those killed in action from this area include:

Charlie Lacy, WWI

Harry Long, WWII

Frank Jennings, Korean War

Guy Lynn Stokes, Vietnam War

Panel displays describing each one's service will be erected on the grounds of the Heritage Park. In future years the museum board will choose for special recognition other veterans killed in action.

All veterans and/or families of any person who has served honorably in the military will have an opportunity to bring and display any military memorabilia for the public to see on the day of the event. These one-day displays will be set up in the city council and community rooms located inside the municipal building. If you have veteran memorabilia such as medals, documents, photographs, or other items for display, and you can make arrangements to be present and responsible for them during the display hours. Please contact the museum board by calling city hall at 731-847-6358 or via email at recorder@cityofparsons.com so that space for your display can be reserved. The museum exhibits and special veteran displays will be open to the public from 10:00 a.m. until 3:00 p.m. on November 8.

The Heritage Park and Veteran's Day Program will begin at 1:00 p.m. outside on the park grounds. The Long, Ivey, Carrington VFW Post 4971 and the Decatur Riverside High School Band will be a part of the afternoon program. A special invitation is given for all area Veterans groups to attend and receive recognition during the program. Retired State of Tennessee Adjutant General Dan Wood will be the master of ceremonies for the program. This year marks the 100th anniversary of the beginning of WWI, and the afternoon program will be highlighted with the recognition of the heroics of WWI Sgt. Alvin C. York. Decatur County is home to the Alvin C. York Bridge, opened for traffic in July of 1930. The bridge spans the Tennessee River between Perry and Decatur Counties. A special display in the Parsons Center will feature items from the Sgt. York Patriotic Foundation and home in Pall Mall, TN. Deborah York, the Executive Director of the Sgt. York Patriotic Foundation and great granddaughter to Sgt. York along with her father, Gerald York, a retired Army Colonel, will be speaking during the program. In the event of bad weather, all activities will be held inside the municipal building.

---
City of Parsons annual Christmas parade will be Saturday December 6, 2014 at 5:00 pm.

This year's theme is: Christmas In Parsons - A View One Hundred Years Past

To register a float, band, antique cars or trucks, or other cars and trucks, and miscellaneous entries:
Call Parsons City Hall at (731) 847-6358. After office hours call Judy Daugherty at (731) 847-6817.
Or come by Parsons Municipal Building at 535 Tennessee Ave South, Parsons, Tennessee.

There is no entry fee. Line-up is at 4:00 pm.

Rain date or snow date will be Thursday, December 11th.
---

Click for more information
---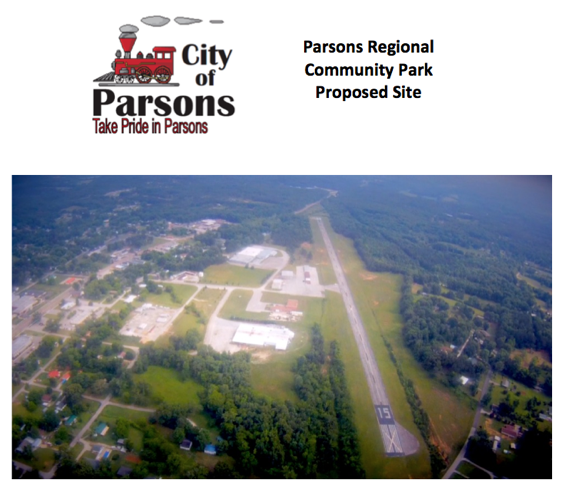 • Click
here
for a promotional video on the proposed Parsons Community Park.
• Click
here
for more information on the proposed Parsons Community Park.
The City of Parsons has been awarded a Land & Parks Recreation Fund (LPRF) grant for Phase I
designed to re-purpose approximately ten acres of the old Scott-Gibson Airport for recreation.
---
We Take Pride in Parsons!