City of Parsons Welcomes You

Parsons Municipal Building
Located on the Banks of the Beautiful Tennessee River about half way between Memphis & Nashville.
Just 15 minutes South of I-40 at exit 126 on Hwy 641 South.
---
---
PUBLIC NOTICE TO SELL SURPLUS PROPERTY


Notice is hereby given that the City of Parsons will be selling surplus equipment by sealed bids. For more information please contact the City of Parsons during regular business hours Monday thru Friday 8:00 a.m. Until 4:30 p.m. Sealed bids must be received by 4:00 p.m. Friday, May 1, 2015 at the Parsons City Hall in the City Recorder's Office.

Sealed Bids will be taken on the following items:

1. Caterpillar D8H Bulldozer
2. John Deere Track Loader
3. Amg Military Wrecker
4. Military Cargo Trailer
5. Amg Expandable Van
6. John Deere Mowing Machine
7. Miller Trailer Mounted Welder
8. Ingersolrand 1" Inpact Wrench
9. Snap 3/8" Torgue Wrench
10. Snap3/4" Torguewrench
11. International Wrecker

Interested individuals may view the surplus equipment by appointment by contacting City of Parsons and ask for Dale King or call 731-733-3247.

Bids must be sealed and plainly marked with the description of item or items being bid on.

Bids will be opened and read on Monday, MAy 4, 2015 at 5:00 p.m at Parsons City Hall before the regular city council meeting at 6:00 p.m.

Terms cash or good check accepted after bid has been awarded.

The City of Parsons reserves the right to reject any and/or all bids and reserves the right to negotiate with the successful bidder on any items that might be overlooked.

Mayor Tim David Boaz

---
As of March 2015, those living within the Parsons City Limits are protected by a ISO 3 Fire Department.
Watch the video below to find out what that means to you:
---
Take a look at how Technology is helping Parsons Utilities save taxpayer dollars:
---

Click for more information
---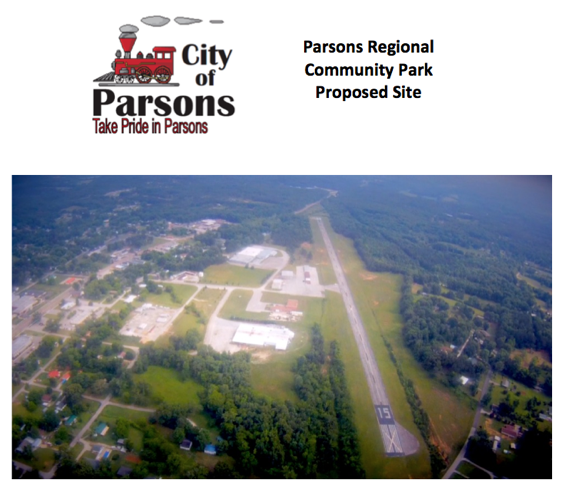 • Click
here
for a promotional video on the proposed Parsons Community Park.
• Click
here
for more information on the proposed Parsons Community Park.
The City of Parsons has been awarded a Land & Parks Recreation Fund (LPRF) grant for Phase I
designed to re-purpose approximately ten acres of the old Scott-Gibson Airport for recreation.
---
We Take Pride in Parsons!